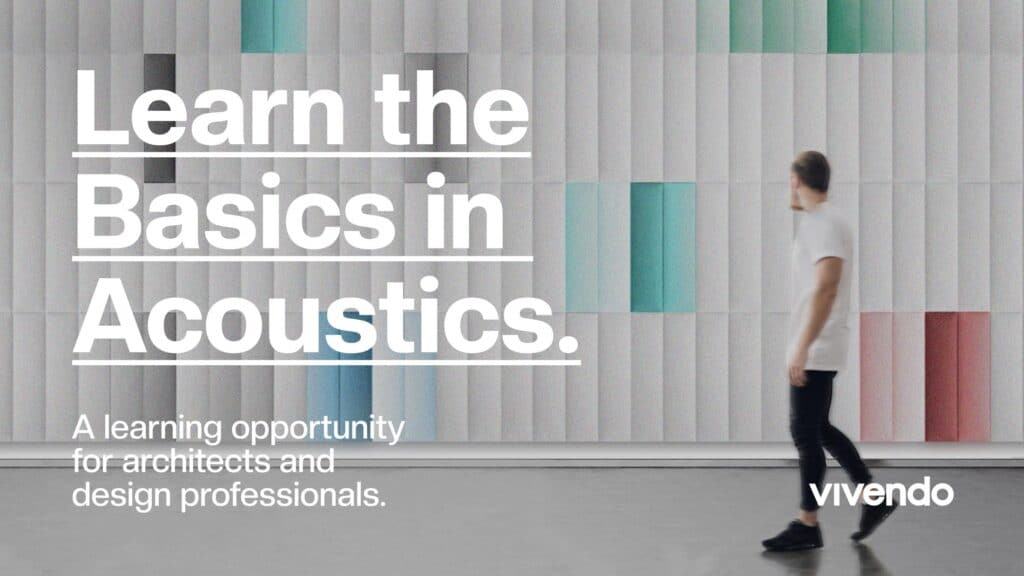 "We experience a room with all our senses. So shouldn't architects spend as much time on how a space sounds as they do on how it looks? Office acoustics are the second most important physical feature affecting workplace productivity (after light)."- Rockfon, 2022
The importance of understanding the basics of acoustics is not only limited to offices. Other public spaces such as restaurants, halls, corridors, reception areas and so on can benefit from having the right acoustic solutions applied.
Every Thursday
Starting 7th July – 11th August
16:00 – Part 1
17:15 – Coffee Break
17:30 – Part 2
18:30 – 15 min Supplier Case Study
In collaboration with Ing. Ivan Scicluna, we are offering a learning opportunity for architects and design professionals to understand the basics of acoustics.
This course is designed to help industry professionals understand issues related to acoustics and enable them to respond correctly in a variety of circumstances. It will include topics such as principles of sound, acoustic treatment, soundproofing and vibration control, along with different materials and tried and tested ways to reduce ambient noise.
There are no course requirements other than the attendees will need to be able to interpret graphs. The course will be delivered in English and will not include formulas or mathematics.
Lectures will take place every Thursday starting from 7th July for six weeks. The subject flow is carefully designed to interlink between each module, so we recommend attending all six sessions.
Session 1 - 7th July
PRINCIPLES OF SOUND
Sound perception and behaviour
The Human Ear
Decibels
Level of sound in air – dB(Z) / dB(A) / dB(C)
Airborne Sound levels
Noise floor
Sound dispersion and penetrating power by frequency
dB ratios and exposure tables
Introduction to Building Acoustics
ACOUSTICS TREATMENT
Reverberation
RT60 – Implications and practical consequences
Un-even Distribution and reach issues
Room Resonance and Axial Room Modes
Cornering and Holeing
Schroeder Frequency and Critical Distance
15 MINS WITH ROCKFON
Session 2 - 14th July
ACOUSTIC TREATMENT
Absorbers
Porous Absorbers
Resonating Absorbers
Cavity Absorbers
Absorption on coefficients and Panel Class
Speech Spectrum
Reflectivity of Common Building Materials
Absorber Material Types
Absorber Mounting Types
Diffusion and Scattering
Single Plane Diffusers
Dual Plane Diffusers
Hybrid Panels
Bass Traps
Damped Membrane
Resonating membrane
Tuned Pipe
Virtual Simulations, On-site Simulations, Room Correction
Acoustic Treatment approach
Electronic Systems
Sound Masking
Sound Cancellation
15 MINS WITH SLALOM ACOUSTICS & PARTITIONS
Session 3 - 21st July
SOUNDPROOFING
Introduction
Airborne and Impact Noise
Flanking Noise and Barrier Failure
Wall issues
Door Issues
Window Issues
Structural Isolation Issues
Airborne and Impact Sound Barriers
ISO vs ASTC
Isotropic Barriers
Double Wall barriers
De-coupling
Critical Frequency and Material Resonance
Damping
Cavity Absorption
Mass-Air-Mass Resonance
Design Criteria
NR Levels
Understanding Sound Barrier Ratings – Rw / R'w / Dw / DnTw
Barrier Compensation According to Barrier Size, Room Size and Reverberation Time

15 MINS WITH SPIGO GROUP
Session 4 - 28th July
SOUNDPROOFING
Permanent Sound Barrier Materials
Boarding Materials
De-coupling Materials
Damping Materials
Cavity Absorption Materials
Sealers
Movable Sound Barriers
Soundproof Ceilings
Soundproof Floors
Acoustic Floors
Floating Floors
Suspended Floors
Materials
Framed Glass Apertures
Glass Overview – Sheet Glass, Float Glass and Rolled Glass
Heat-treated Glass and Tempered Glass
Laminated Glass
Glass Interlayers – PVB / EVA / SGP
Polycarbonate and Bulletproof Glass
Smart Glass
– 15 MINS WITH FORBO FLOORING SYSTEMS
Session 5 - 4th August
SOUNDPROOFING
Framed Glass Apertures
Types of Certified Frames
Certified Frame Construction
Frame Mechanisms
Glazing Configurations
Acoustic Glass
Gas-Fill Options – Air vs Argon vs Krypton
Aperture Soundproofing Classes
Box Apertures
Guideline Spectrums for Speech and Traffic Noise
Adaptation to local Noise Figures
Frameless Glass Partitions
Flanking noise issues with non-certified Glass Partitions
Polycarbonate Joints
Certification and Performance
Soundproof Aperture Installation and Installation Issues
Aperture Failure
Solid Doors
Soundproof Door Composition
Wood vs Steel
Cascaded Doors
Installation Issues
15 MINS WITH FREZZA
Session 6 - 11th August
SOUNDPROOFING
Industrial Noise Control
Pipe and Duct Insulation
Acoustic Louvres
Environmental Noise Control
Outdoor Sound Barriers- Metal / Transparent
VIBRATION CONTROL
Structural Vibration Control
Vibration Transmission
Inter-Structure Isolation
Inter-Building Isolation
Foundation Isolation
Industrial Vibration Control
Building Services
Importance of Deflection
Spring and Rubber mounts
Types of Spring and Rubber mounts
Data and Data Processing for vibration Control
Ivan Scicluna, B.Elec.Eng.(Hons.), Sound Engineer & Acoustics Consultant.
With a career spanning over 25 years, Ing. Scicluna is an electrical engineer specialising in structural acoustics and audio engineering. After working in Germany for several years, he now consults in Malta in acoustic treatment, soundproofing and vibration control.
COURSE
— FEES
& CERTIFICATION
An attendance certificate will be awarded at the end of the course (100% attendance is required). This course is supported by Kamra Tal-Periti.
Fee: €150* inc vat per person for six sessions.
*The total amount will be donated towards a charity in acoustics product and installation for their chosen space. More info will be shared soon.
Seating is limited and on a first-come, first-served basis.
Kindly let us know should you be interested in the course but cannot make these dates.
Once you submit your details, you will receive an email (1-2 business days) with the course programme and bank details for payment.
e. marketing@vivendo.mt
t. 7727 1095
We offer fully integrated office solutions, from acoustics and flooring to ergonomic seating and furniture. Whilst ensuring to understand every client's business needs thoroughly, our solutions prioritise the person spending the most time in the space we provide. We collaborate with top suppliers, architects and designers, working with iconic brands such as Vitra.
Location: Vivendo, Mdina Road, Qormi.