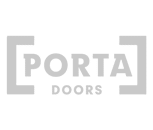 CPL Doors
10 - 12 weeks
2 years
We provide a selection of quality commercial doors for interior or exterior projects in in offices, hospitality, medical and retail. Thanks to our trusted suppliers, we can offer a large range from different sizes to different materials and properties such as fire-proof doors with general building code approval or multifunctional steel doors, office doors, hotel doors, or anti-theft doors, suited to your business space.
– Lock: regular key, bathroom lock or adapted for cylinder insert
– Two pintle hinges as standard or prime
– Three hinges (at a door leaf size '100' and '110')
– Glass panel – models group 1: 'chinchilla', matt tempered or transparent
– Models group 5: 'chinchilla', matt tempered
– Preparation for shortening (max. 60 mm) (only group 5)
– Round handle for sliding doors.