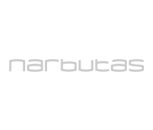 Nova U Desk
Starting from
10 - 12 weeks
5 years
NOVA: modern classic Even the name itself derived from the Latin word means something "new". If you change the desktop texture or leg colour, you will be able to create a whole new desk. The universal design and the functional desking system allow you to choose from a range of different desk designs and to adapt them to any office space.
This version comes in two sizes.
Dimensions:
W=140cm x H=74cm x D=80cm (€189.00)
or W=160cm x H=74cm x D=80cm (€199.00)
* Price Excluding Delivery & Installation
For more info on product technical specs, Click Here.