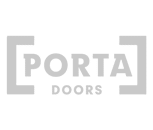 Project Doors
10 - 12 weeks
2 years
We provide a selection of quality commercial doors for interior or exterior projects in in offices, hospitality, medical and retail. Thanks to our trusted suppliers, we can offer a large range from different sizes to different materials and properties such as fire-proof doors with general building code approval or multifunctional steel doors, office doors, hotel doors, or anti-theft doors, suited to your business space.
– Leaf composed by two steel sheets 6/10 mm galvanized and textured, as standard pre- painted RAL 7035, or as option with all RAL colours.
– The steel sheets are united by a special aluminium profile silver colour.
– The inside filling in honeycomb paper united by glue to the outside steel sheets makes a unique and strong block.